View all posts
Performance Finance is off to the races with Indian!
05/10/2023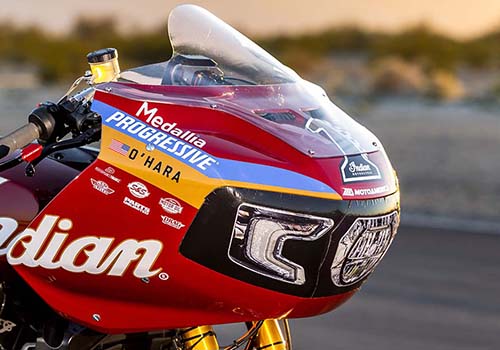 Performance Finance is off to the races with Indian!
OAK BROOK, IL, May 10, 2023
Performance Finance, a powersports lending division of Evergreen Bank Group, is excited to be a sponsor of the Indian Motorcycle® Racing team in 2023. It promises to be a thrilling year of racing, following up on last year's racing wins, including King of the Baggers, Super Hooligan, and Flat Track. In total, that's 18 races across the nation. With 2023 well underway, Performance Finance is geared up and ready to race!
Indian Motorcycle is America's first motorcycle company, founded in 1901. Performance Finance has been part of the Indian team for the past seven years by providing financing to Indian Motorcycle owners. But this year, Performance Finance wanted to show even more support.
"We love the Indian brand," said Tom Collins, Executive Vice President and Managing Director of Performance Finance. "This is why we are a team sponsor this year. We can show our support for Indian and be part of a thrilling racing year!"
Performance Finance serves the powersports marketplace by financing powersports loans and, through its network of dealer partners, has helped over 50,000 customers realize their powersports dreams. In addition to Indian, Performance Finance also proudly partners with Polaris Off-Road, Polaris Snow and Polaris Slingshot, serving as their retail finance partner and underwriting loans in all 50 states and Puerto Rico.
"We are all excited for this race year," said Collins. "We are always looking for ways to be involved and to show support of our OEMs, so the racing team is a great way to do this. Our customers and our dealers can take pride in seeing our name on the bikes and leathers, especially since these races are seen all over the globe!"
Performance Finance recently upgraded its online and mobile capabilities. Loan customers now enjoy a mobile app and the ability to open a Performance Finance online savings account in just minutes. "These additional digital banking benefits have helped our customers in many ways," explained Collins. "The mobile app has made loan payments easier, and the online savings account provides our customers with a convenient way to save."
With the racing well underway, and new digital banking capabilities helping loan customers with a great online experience, Performance Finance is in the winner's circle and looking forward to an exciting lineup for 2023.
Evergreen Bank Group (the "Bank") is an Illinois-chartered community bank wholly owned by Bancorp Financial, Inc., a Delaware corporation (the "Company"). The Bank was formed in 1999 and became a subsidiary of the Company as a result of a merger transaction during 2007. The Bank is headquartered in Oak Brook, Illinois.
This document contains certain forward-looking statements as defined in applicable federal securities laws. These forward-looking statements describe future plans or strategies and may include the Company's and the Bank's expectations of future results. The Company's and the Bank's ability to predict results or the effect of future plans or strategies or qualitative or quantitative changes is inherently uncertain. Actual results may differ materially from stated expectations.